Kaiser Permanente Wellness
Kaiser Permanente (KP) Wellness 2019 For Members and Covered Spouses Enrolled in the KP Regional In-Network Only HMO Plan Option
KP Purple.jpg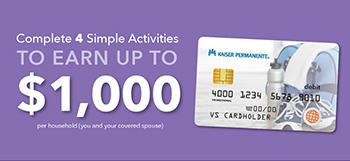 Earn up to $1000 and feel the benefits of taking care of your health!
Simply sign up for the KP Wellness Program at kp.org/engage and make sure you are up-to-date on all four of the activities listed below. Each member (member and covered spouse) who satisfies the KP Wellness Program requirements will receive a $500 reward card ($1000 per household!). Use your wellness incentive to further embrace your Total Health.
Getting your reward is easy and there is no specific order in which these four wellness activities must be completed! Just sign on to kp.org/engage to accept your Wellness Program Agreement, which is required for reward eligibility. For details or questions go to my.kp.org/shbp or call 866-300-9867.
What to Do
Take your Total Health Assessment
Complete your 2019 KP online Total Health Assessment (THA). The questionnaire is confidential and only takes about 20 minutes.
Know Your Numbers
Complete a Biometric Screening at a Kaiser Permanente Medical Office or by a KP clinician at an SHBP-sponsored screening event. Note: ONLY those screenings performed by KP are eligible for the reward. Visit kp.org/wellnessevent to schedule your 2019 biometric screening at one of these events.
Get Yourself Screened
Complete all age and gender appropriate preventive screenings for breast, cervical or colorectal cancer.
Take an Online Course:
Complete an online Healthy Lifestyle Program.
What You Will Earn
Complete all four activities and earn a Reward Card Worth $500.
How will YOU use your $500 Wellness Incentive Reward Card?
Pay for co-pays/prescription medications
Relieve stress with quarterly massages
Take a nice weekend hiking trip in the mountains
Splurge on new work-out clothes or walking shoes
Stock up on healthy foods at the grocery store
Both members and their covered spouses are eligible to earn the incentive for a total of $1000 per household.
For information on KP Wellness Program appeals, please visit their website Kaiser Permanente Wellness Program.  
*Please visit the Sharecare section of our website for more information on the Wellness program and incentives for eligible members enrolled in the Anthem Blue Cross and Blue Shield (Anthem) and UnitedHealthcare Plan Options.